Flower Arrangement Class Singapore: Join Our Floral Workshop Now
At Avoflorals, we invite you to embark on a journey into the art of floral arrangement. Our comprehensive flower arrangement workshops in Singapore are designed to introduce you to both fresh and preserved flower arrangements, refine your practical skills, and enhance your knowledge of floral care.

Our workshops are intimate sessions, each lasting approximately 2 hours, and are designed to ensure personal attention with a capacity of no more than 6 participants. For corporate workshops, we can accommodate larger groups of up to 20 participants while maintaining a conducive learning environment.
What you can expect from our Workshops:
Prep work and conditioning

A basic overview of flower care, helping you understand how to keep your blooms looking fresh

Mechanics

Introduction to the tools of the trade, ensuring you can handle and manipulate flowers with ease

Arrangement

In-depth exploration of floral design basics and techniques, equipping you with the skills needed to create visually striking arrangements

Lets try it out!

A hands-on session where you get to apply the knowledge you've gathered, under the guidance of our expert florists
Get Hands-on Session on Flower Arrangement
At Avoflorals, we passionately believe in transforming theory into practice. This is why we've designed our workshops to provide you with a practical, hands-on experience in floral arrangement. Our aim is to move beyond merely teaching the principles of floristry and enable you to actively apply these concepts, thereby deepening your understanding and appreciation for the craft.
An arrangement that speaks your personality
In addition, our flower arrangement workshops aren't merely instructional—they are immersive and allow you to become a master of your own craft. As you venture into our creative space, you'll have the opportunity to construct your own floral masterpieces. Moreover, we will be on hand to provide guidance and support as you learn to transform individual blooms into stunning arrangements that reflect your unique creative vision.

From selecting the perfect flowers to determining their arrangement and caring for your creations, every aspect of our workshop is aimed at nurturing your creativity and developing your skills
View our latest workshops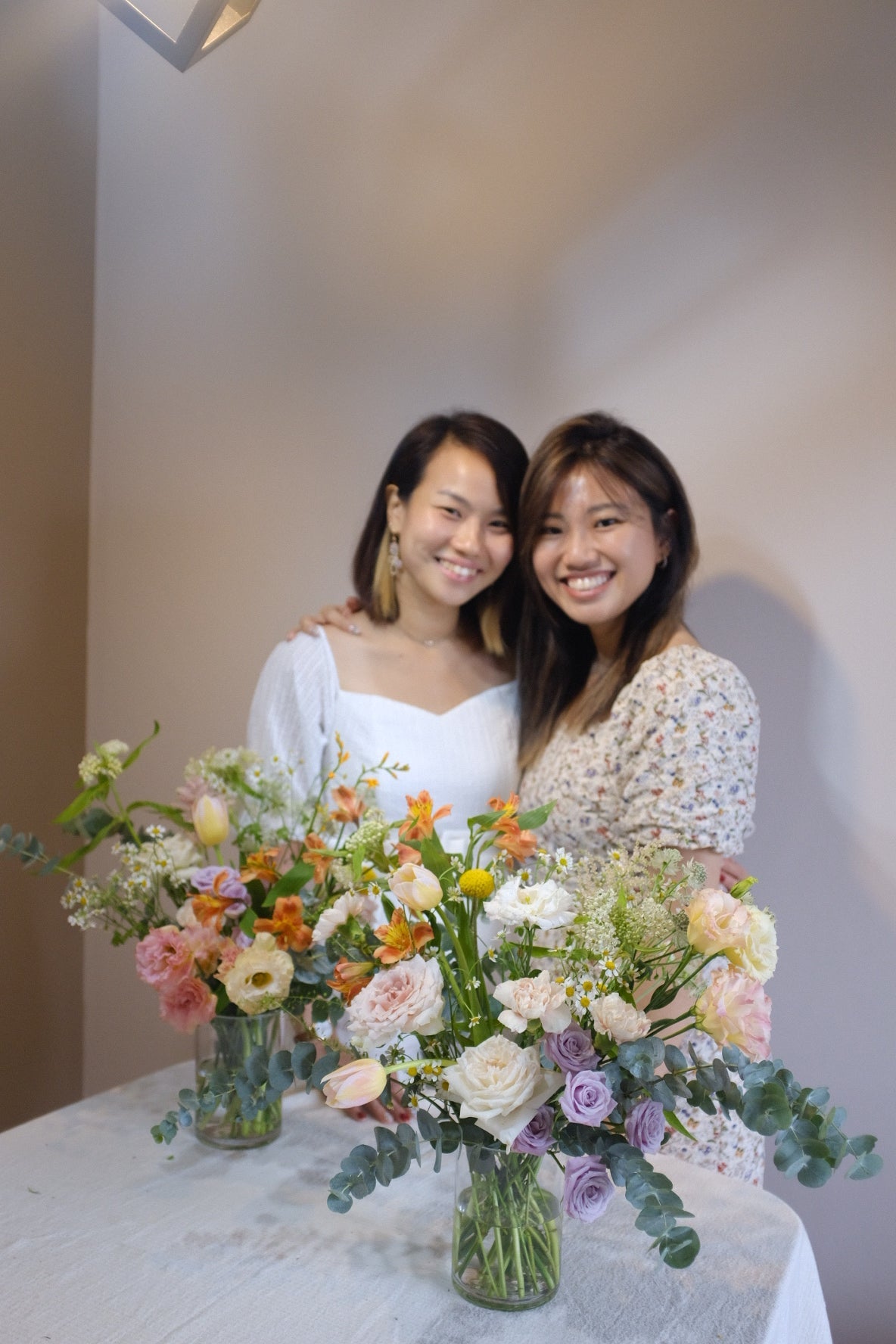 Learn the Techniques of Floral Arrangement at our Workshop
As we go deeper into the realm of floral aesthetics, you will learn the fundamental principles of flower design, including the crucial aspects of balance, emphasis, harmony, and unity. These principles serve as the guiding forces behind creating breathtaking compositions that speak to the heart. 
In addition, we will explore various basic floral designs, such as vase arrangement and centrepieces arrangement, empowering you to transform a humble selection of blooms into a mesmerising visual display. Moreover, our workshops will guide you in understanding which arrangements best suit different events, helping you tailor your creations to specific themes and atmospheres. 
Ready to blossom in the world of floral artistry? Discover our wide range of services, such as crafting enchanting flower wedding arches and curating elegant church wedding decorations, and let your creative journey with Avoflorals begin today! 
Get in touch with us if you have any questions; we're here to support you every step of the way.
Upcoming Workshops
Watch this space for our latest happenings
Regular price

Sale price

$85.00 SGD

Unit price

per

Regular price

Sale price

$85.00 SGD

Unit price

per

Regular price

Sale price

$85.00 SGD

Unit price

per
Frequently asked questions
1. How long are your workshop sessions?

Our workshop sessions are designed to provide a comprehensive learning experience, typically lasting for approximately 1.5 to 2 hours. This time frame ensures you get to thoroughly explore the art of floral arrangement, from understanding the basics to creating your own masterpiece, all while having plenty of time for questions and personalised guidance from our experienced florists.
2. Do you offer private/corporate flower arrangement workshops?
We offer private workshops with a min of 4 pax as well as corporate workshops at your preferred location. Whether you're planning a hen's party, a birthday party or just a simple get together, we have the workshop suitable for your group of friends or colleagues.Contact us to find out more and arrange your very own private workshop.
3. When is the best time to participate in these classes?
Our flower arrangement classes are designed to be flexible and accommodating. You can join us at any time that suits your schedule. However, we recommend participating in our seasonal workshops, where we incorporate unique blooms and themes relevant to the time of year, to ensure you get the most varied and enriching experience possible.
4. What do I need to prepare or bring to the flower workshops?
At Avoflorals, we've got you covered. We provide all the necessary materials for the workshop, including a stunning variety of fresh flowers, stylish vases, and professional-grade tools. All you need to bring is your creative spirit, an eagerness to learn, and a love for nature's beauty. Just come as you are and get ready for a memorable experience.
5. What can I take away from these floral arrangement classes?
Participating in our workshops will provide you with more than just a beautiful floral arrangement to take home. You'll acquire a deep understanding of floral design principles, hands-on experience in flower arrangement, and insights into sustainable floristry practices. Moreover, you'll gain the therapeutic benefits of working with flowers and a newfound appreciation for nature's intricate beauty.