Fresh Flower Bridal Bouquets Online: Hand Bouquet & More
Your wedding day is a momentous occasion. In such a significant moment, every detail matters. Amid all the vital components of your big day, a standout element is your bridal bouquet.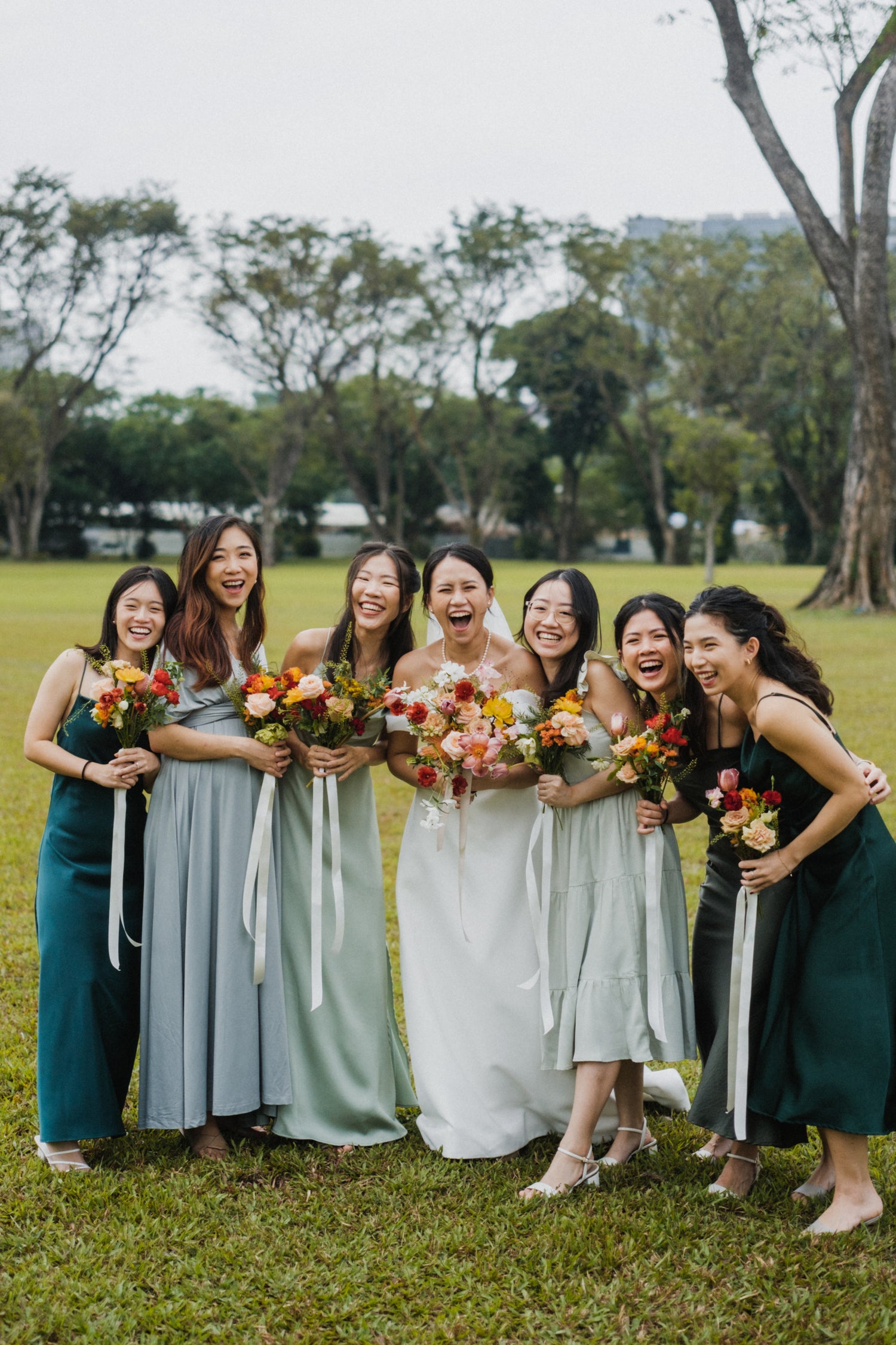 Bespoke bridal bouquets for your big day
When it comes to crafting these critical details, Avoflorals distinguishes itself as the go-to bridal hand bouquet provider in Singapore. Trained in McQueens Flowers School in London and Cassel Flower School in Seoul, our commitment to quality and detail is unparalleled. We are not just florists; we are artisans of love, translating your unique love story into beautiful floral arrangements that speak volumes about your personality and style.
Handcrafted for you
Our commitment to quality and detail is unparalleled. We understand that every flower in your bridal bouquet should be handcrafted with care. That's why we meticulously handpick every bloom, ensuring that your hand bouquet is nothing short of perfection.
Whether you're drawn to the timeless elegance of classic white and green bouquets or one with vibrant splashes of colour, we will create a fresh flower hand bouquet that reflects your taste and complements your wedding theme.
Enquire with us today
Choose the Best Bridal Bouquet in Singapore with Us
Here at Avoflorals, your dream wedding flowers blossom into reality. As experts in bridal bouquets in Singapore, our mission is to help you choose through flower varieties, colours, and styles for your special day.
We understand that choosing the perfect bridal bouquet involves a thoughtful blend of personal preference, symbolism, and harmony with the overall theme of your wedding decoration package. 
Your personal bouquet that speaks your personality
When creating your bridal hand bouquet, we consider your personal taste and the special meanings of the flowers. Let us know what speaks to you in terms of colours and style, and we will do the rest. We pair the season's best blooms into your bouquet, meticulously arranging each one, resulting in a truly unique creation that stands apart from the rest. No two bouquets are the same, as we take great pride in customising each arrangement to showcase the couple's personality through a vibrant display of colours and thoughtfully selected flowers. With Avoflorals, your bridal hand bouquet will become a beautiful reflection of your love story, captivating the hearts of all who witness it and adding an extra layer of joy and meaning to your special day.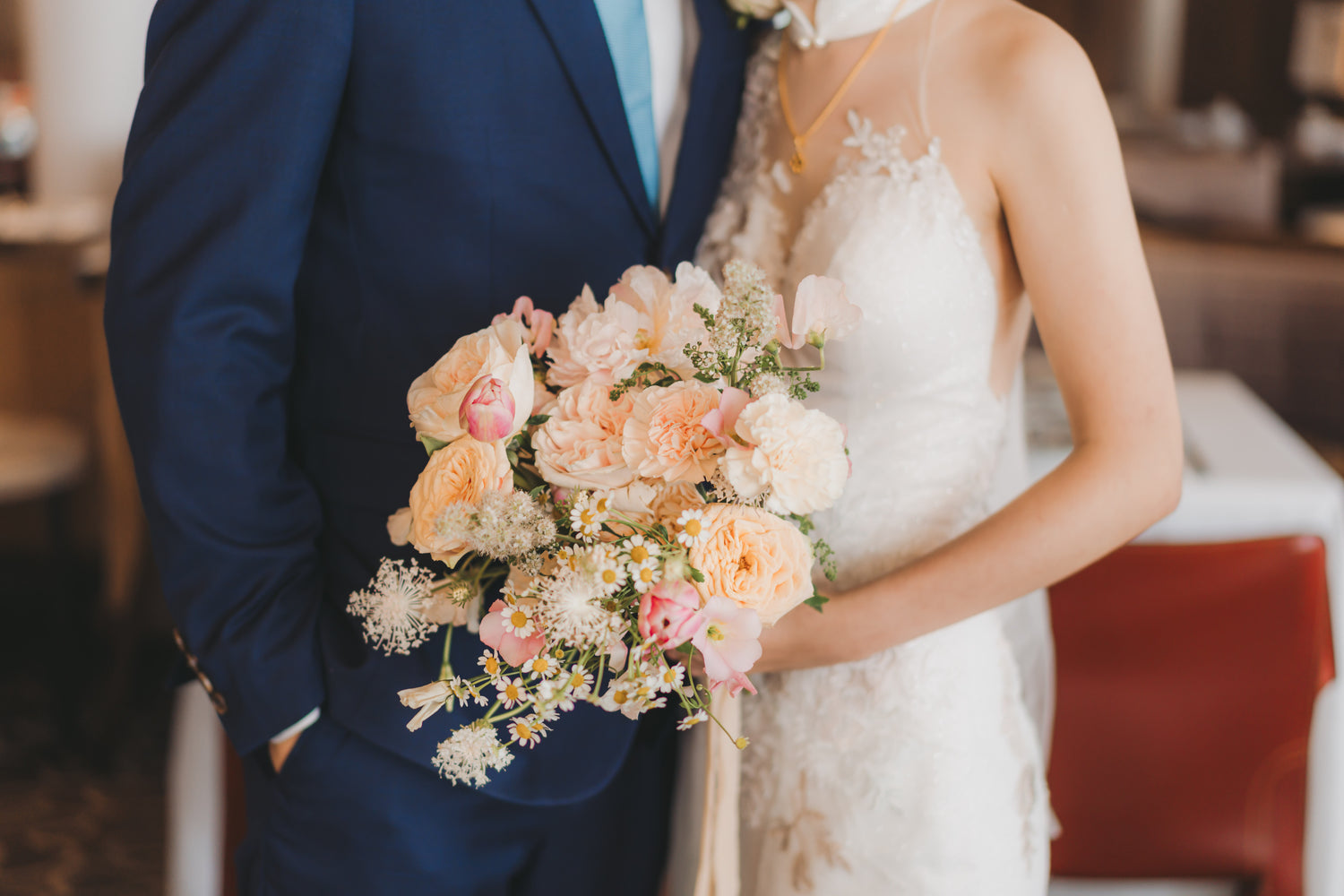 Customised to your preferred colours
We believe that the style of your hand bouquet should also complement your wedding dress and figure. A cascade bouquet might overwhelm a petite bride, while a small posy might not pair well with a tall bride. We help you find the right balance and hand bouquet proportion that will suit you as a bride.
Your wedding theme and colour scheme will also be our guide to the perfect bridal bouquet choice. If you're having a Great Gatsby-themed wedding, classic white and green flowers would be a perfect fit.
And screams your unique style
All these factors can ensure that your bridal hand bouquet will be a beautiful and meaningful addition to your special day in Singapore. While you might have a plethora of talented florists to choose from, Avoflorals ensures that your hand bouquet will be the key element that ties your entire bridal look together.
Looking for more floral services to take your big day up a notch? Let us be a part of your unforgettable journey and transform your wedding day with our exceptional church wedding floral arrangements and other services like floral arch wedding packages. Explore the magic of your wedding day with our bespoke fresh flower bridal bouquets. While we don't offer off-the-rack bouquet, you can still begin your journey by dropping an enquiry via WhatsApp, email, or online contact form, where we will personally assist you. Let us curate a unique and enchanting bouquet that perfectly complements your special day.
Get in touch!
 Frequently Asked Questions About Bridal Hand Bouquets in Singapore
1. How much is a bridal bouquet in Singapore?
The cost of a bridal bouquet in Singapore can vary widely based on the type of flowers used, the complexity of the arrangement, the package opted for and the florist's expertise. At Avoflorals, we pride ourselves on offering a wide range of options to suit different budgets, without compromising on quality or aesthetics. Our offerings include a stunning bridal bouquet and groom's boutonniere package priced at $300, as well as an exquisite cascading bridal bouquet and groom's boutonniere package priced at $340. Rest assured that we use only the finest seasonal blooms available in the market, ensuring that every hand bouquet we create is a work of art. Please note that additional charges may apply for specific flowers requested, ensuring that you receive a personalised and exceptional arrangement tailored to your preferences.
2. Why are bridal bouquets more expensive?
Bridal bouquets are typically more expensive than regular flower arrangements due to several factors. Firstly, they often use a variety of flowers and may include more expensive or premium blooms. Secondly, bridal hand bouquets require a high level of skill and time to create, as they need to be carefully arranged and often include intricate details. Lastly, bridal bouquets are usually custom-made to match the bride's dress and wedding theme, which adds to the cost.
3. What are some tips for choosing a bridal bouquet?
When choosing a bridal hand bouquet, consider the following tips to ensure a perfect match for your wedding day. First, coordinate the bouquet with your gown's style and colour scheme. Second, select flowers with personal significance or symbolic meanings to add sentimental value. Third, consider the bouquet's size and shape to complement your body proportions. Fourth, opt for seasonal blooms for freshness and cost-effectiveness. Finally, communicate your preferences clearly with your florist, allowing them to create a bespoke arrangement that reflects your personality and enhances the overall ambience of your special day.