Flower Wedding Arch in Singapore
FULFIL YOUR DREAM WEDDING FLOWERS WITH US!
Bespoke Floral Arch
A flower arch is an unforgettable way to make your wedding day even more magical. With its lush and vibrant blooms, it's the perfect backdrop for exchanging vows in front of family and friends. Plus, you can even customise a flower arch with floral hues that match your wedding theme. Whether you are looking for a whimsical or romantic atmosphere, a flower arch will create an enchanting setting for your wedding that everyone will remember. So if you want to make your big day absolutely breath-taking, consider adding a flower arch to your celebration. It'll definitely make memories that will be worth cherishing forever!
Bespoke Wedding Flower Arch Designs
Are you looking for a floral arch for your wedding that looks amazing and is designed just for you and only you? Look no further than Avoflorals. Our floral wedding arches can be designed in a variety of sizes, styles, and colours to perfectly match the theme of your big day. Be it circular, rectangular, triangular or a fully deconstructed arch or simply those on floral stands, we have a range of wedding decoration packages that will fit your needs. 

The floral wedding arch is the perfect way to add charm and beauty to your special day. With our selection of floral arrangements for all types of weddings, we will be able to leverage our expertise to create a stunning flower arch just for your special day. Whether you need a classic arch or something out of the ordinary, we'll create them for you! 
Deconstructed Floral Arch for Your Wedding 
Looking for the perfect way to make your entrance on your wedding day? How about a stunning floral arch from Avoflorals! Our arches are made with the freshest and most beautiful flowers, ensuring that your entrance or walk down the aisle is as magical as it should be, and gives your guests the wow factor!
A Modern Take to a Deconstructed Wedding Flower Arch
Weddings are special occasions that deserve extra-special décor, and a modern version of a deconstructed arch is becoming increasingly popular in weddings these days! At Avoflorals, we can make your big day even brighter and more special with our custom flower arch. This includes the creation of a semi-deconstructed arch that can be easily transported from one location to another so you can use the same backdrop in two different locations, such as the Church and ballroom. With vibrant blooms, lush greenery and a few surprises, you will be ready to take the perfect Instagram shot to remember your wedding day by. 
Add a Touch of Magic with a Wedding Flower Arch
For the perfect wedding, you need the perfect setting. And what better way to create a romantic atmosphere than with an arch of flowers? We, at Avoflorals in Singapore, have all your floral decorations needs covered.
Whether you want a church wedding or something held in nature, we will help you have your big day filled with beauty and charm with our various packages including church wedding decorations. Our selection of decorations can provide an elegant touch to your wedding ceremony. With Avoflorals, planning wedding decorations doesn't have to be stressful. Contact us today and let us take care of all the details, so you can focus on enjoying your big day.
Frequently Asked Questions About Flower Wedding Arch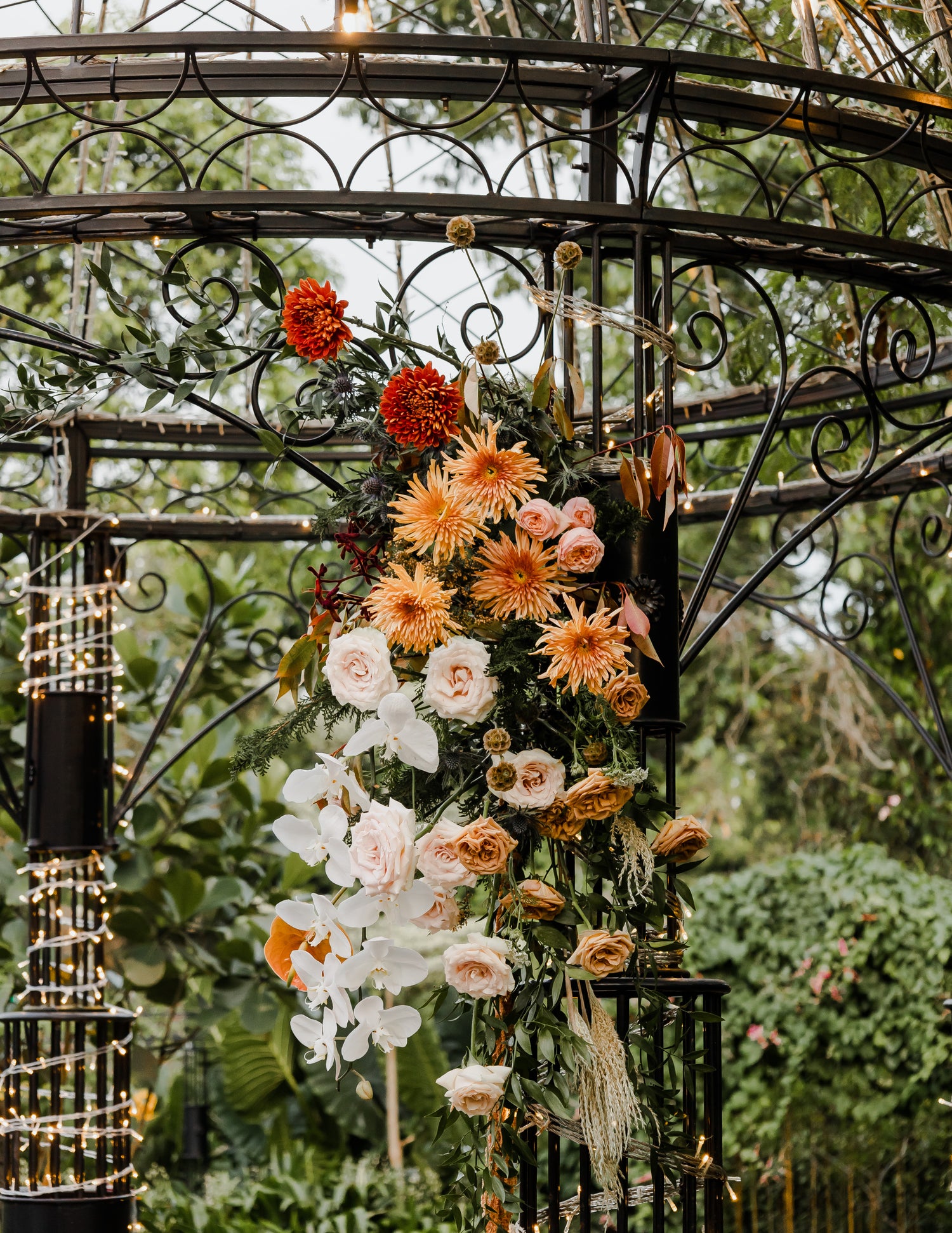 1. How much is a flower arch for weddings in Singapore?
The cost of a floral arch for weddings in Singapore will vary depending on the size, style, type of flowers and the density required to create the desired arch. At Avoflorals, we create beautiful floral arches perfect for any wedding while catering to your style preferences and budget. You can send us your wedding details such as date, time, venue, estimated budgets and your preferred flowers, and we will get back to you with the rightwedding decoration packagefor you in a day.
2. How long will a wedding flower arch last?
At Avoflorals, we offer our wedding flower arches with only the freshest blooms. Despite the hot weather in Singapore, we ensure that your wedding arch will remain fresh throughout your wedding day. This means that our floral designs will stay vibrant and gorgeous from the time you walk down the aisle through the very end of your reception, so you can bask in their beauty all night long!
Why choose Avoflorals?
Experienced at creating bespoke floral designs for a bride and groom, our speciality includes everything from towering installations made with focal blooms to classic floral designs that lend a myriad of textures to your wedding venue. Considering everything from the theme and colour palette you have in mind to what would make lasting memories, we fuse the essence of your relationship with our floral design sensibilities.

For floral arrangements deserving of an 'I do', or for more information on our wedding decoration packages in Singapore ,get in touch with us at Avoflorals today.